The German Shepherd Growth Chart below will give you a guide, as to what height and weight your German Shepherd should be at each age.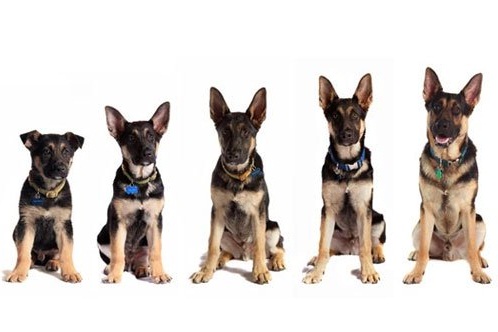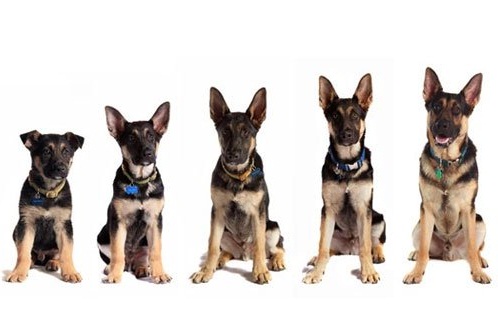 Remember that each dog and every circumstance of its life environment and genetic heritage are different so this German Shepherd Growth Chart is approximate.
A healthy newborn large breed pup should at least double its birth weight in the first week of their life.
A German Shepherd dog usually reaches physical adulthood at 1 and half to 2 years of age. However some Eastern European bloodlines mature more slowly, and sometimes they are not mature until 3 years of age.
Adult weight guide. User Manuals.
Male
A fully grown male German Shepherd weighs between 66 and 88lbs, with a midrange weight of 77lbs. If your scales are in kilos it is between approximately 30 to 40kg
Female
A fully grown female German Shepherd weighs between 49 and 71lbs, with a midrange weight of 60lbs. If your scales are in kilos it is between approximately 22 to 32kg
Please remember this German Shepherd Growth Chart is a guide only
| | | | | |
| --- | --- | --- | --- | --- |
| Age in months | Male weight in  pounds | Male weight in  kilos | Female weight in pounds | Female weight in kilos |
| 1 | 9 | 4 | 7 | 3 |
| 2 | 20 | 9 | 16 | 7 |
| 3 | 31 | 14 | 26 | 12 |
| 4 | 42 | 19 | 36 | 16 |
| 5 | 51 | 23 | 44 | 20 |
| 6 | 57 | 26 | 50 | 23 |
| 7 | 63 | 28 | 54 | 24 |
| 8 | 66 | 30 | 57 | 26 |
| 9 | 69 | 31 | 59 | 27 |
| 10 | 72 | 32 | 61 | 28 |
| 11 | 74 | 33 | 63 | 28.5 |
| 12 | 76 | 34 | 64 | 29 |