IMPORTANT – BEFORE CONTACTING US – READ THIS ENTIRE PAGE!!!
Breeding rights are NOT available.  Our puppies are sold as "pets"only and a strict spay/neuter requirement of new owners having these surgeries completed by a pup's 7 month birthday is required.   If breeding rights were available, they would be available ONLY on select puppies and ONLY to conciencious, responsible breeders.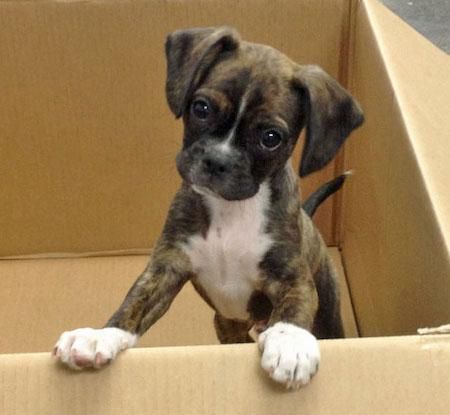 We choose not to crop the ears on the Mini Boxers and we will not get it done for customers. We will not prevent new owners from getting ear cropping done on your own if you so wish.
All of our puppies are given a thorough exam by our Veterinarian and are always current on shots and de-wormings. We feed super premium dog food and only premium treats (Solid Gold and Nature's Variety).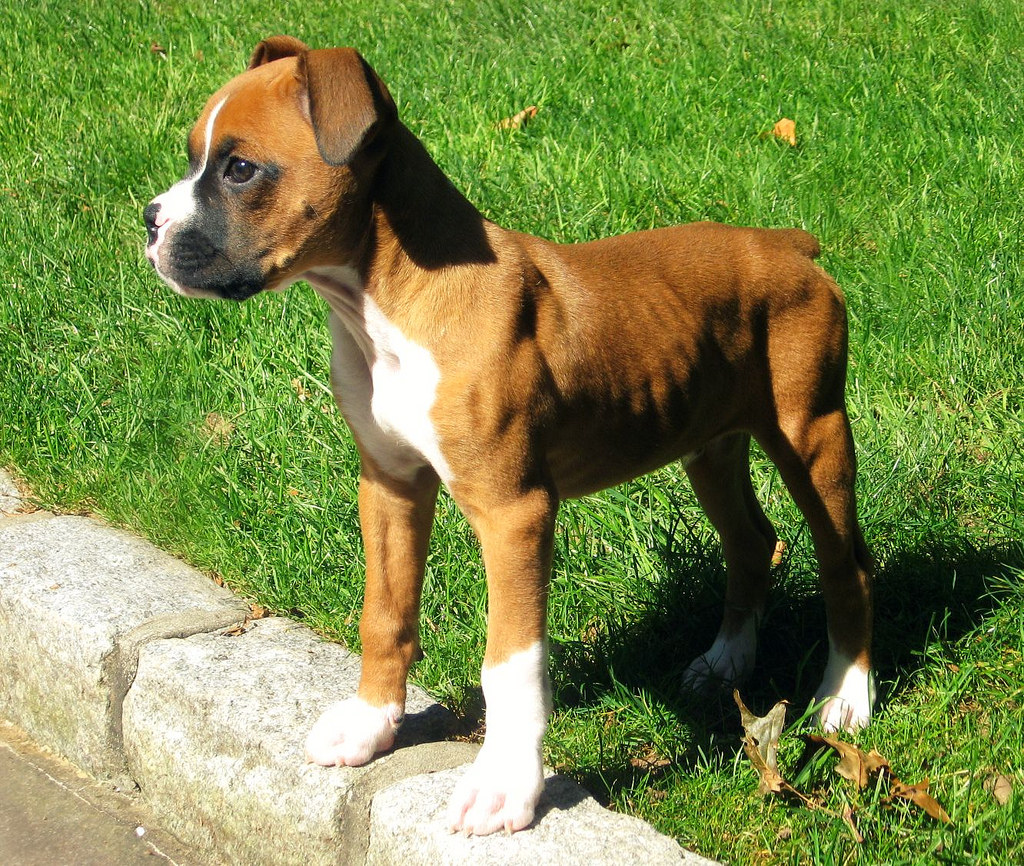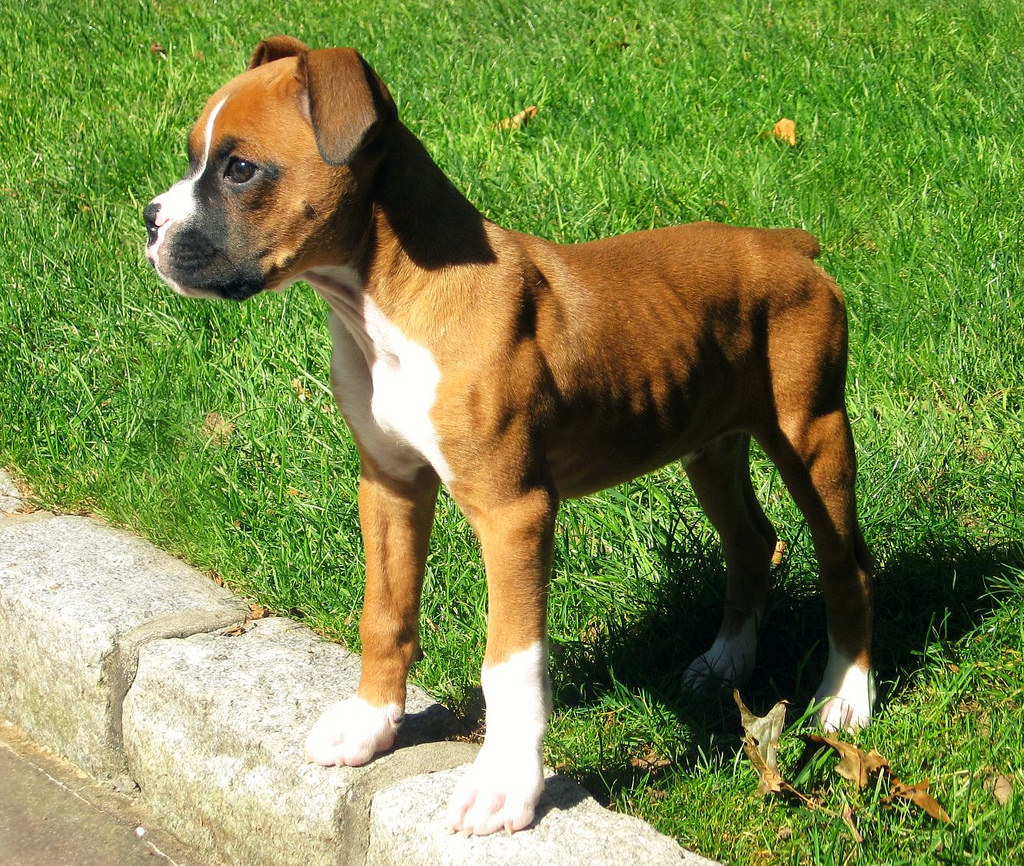 Puppies go to their new homes with a free sample package of food (NutriSource Puppy), their health/shot/worming records, and a copy of the State of MN 1 year limited health warranty. All puppy buyers also receive a FREE 90 day pass to watch unlimited online puppy training videos for 90 days !  A $24.95 value.  There are 6 videos which include house training, crate training, Obedience training and more. We don't barter or negotiate our prices, they are firm.    Shipping can be arranged via airline services. Add $350 (minimum) to have your puppy shipped to you. (This covers the shipping kennel, feed cups, pre-flight vet exam and state health certificate required for flying, the airfare and transport fees to the airport.) The use of a Personal Airline Courier or van services are alternative shipping options and those services would increase the shipping cost. Please read the page on "Shipping" for more information. We have experience with shipping and receiving animals via the airlines for over 20 years and have always found it to be very safe. We would not offer to ship if we felt it was in any way unsafe or too traumatic to one of our puppies/dogs.
Puppies are sold to approved homes only. We reserve the right to refuse to sell a puppy to anyone for any reason. The well being of our puppies comes first and foremost. If you have a SERIOUS INTEREST in one these pups/dogs and have a FABULOUS LIFETIME HOME to offer then please email and introduce yourself. The following information is REQUIRED. I'll repeat that – it is REQUIRED. Even if you just have a comment and even if you just have a single question to ask like "when are pups due"??? We do not wish to communicate with people we know nothing about. If you do not want to provide us with this information, then you will just have to keep an eye on this website for updates that might answer your questions. With emails, we have no idea if you are 10 years old or 70 years old. We need to know these basic things in order to know how to appropriately respond to you. There is no right or wrong answer, we are just needing a detailed introduction. If you are a novice dog owner, then we would provide you with different information than we would if you are an experienced one. If you are 10 years old we will provide you with different answers and ask different questions of you than we would of a 70 year old. Failure to provide ALL of this required, very basic information will result in you receiving a response email that simply says "inadequate information provided, please try again" or your email will simply be put into the trash.
Here are the items we'd like to know:
Full name – that means first and last – no exceptions.
Home information: meaning is it an apartment, townhome, single family home, type of yard, fence or no fence, do you own or rent.
What is your age and the ages and number of the people living in the household.
What other pets have you owned previously. Tell us about them.
List what pets you currently own – ages, size, breed, etc.
Your city and state – no expections
Your home telephone number. You can also provide work and cell numbers if you would like.
If you are not wanting to bring a puppy home within a week's time from contacting us, let us know when you want to get one.
For people who are not the actual owners of the property they are living in, or if you own a townhome or condo in an association, then we also need to know the following:
Are you sure that you are allowed to own a dog?  (Just seeing other people in your complex that have dogs does not mean YOU are allowed to own one.)
What is the size (height or weight) restriction, if there are any.
Are you allowed to have a "puppy".  Many places that do allow dogs do not allow people to own puppies or dogs under 1 year of age.  Please verify that.
Many rentals will require an add'l security deposit and an additional monthly rent fee if you get a dog, please make sure you are aware of these costs and that you are comfortable with affording them.
ANY PUPPY THAT IS OVER 6 WEEKS OLD IS EXPECTED TO BE PAID FOR IN FULL BY 7 OR 8 WEEKS OLD.  IF YOU ARE WANTING TO PURCHASE A PUPPY THAT IS 8 WEEKS OLD OR OVER, THEN IT IS ASSUMED THAT YOU HAVE THE TOTAL FUNDS TO PAY FOR THE PUPPY AND THE SHIPPING AND TAKE POSSESSION WITHIN A SHORT/REASONABLE AMOUNT OF TIME.  IF YOU WANT TO PURCHASE A PUPPY THAT IS LISTED BUT NEED TO WAIT TO EITHER PAY FOR IT OR TAKE POSSESSION OF IT, THEN YOU NEED TO TELL US THAT INFORMATION UP FRONT IN YOUR INTRODUCTION EMAIL WHAT YOUR CIRCUMSTANCES ARE.
(I'm wanting to wait to get the dog after we return from vacation on a certain date, I'm wanting to get the puppy next month for my child's birthday on a certain date, I'm waiting for my tax return, I'm waiting for a bonus check, I'm waiting for my next paycheck on a certain date.)
We get the following email request often "please send me more information and photos on your dogs." We have no more photos to share with people than what is listed on this website. We can think of no other basic information to share other than is what is listed on this website. If you desire more information, you will have to ask SPECIFIC questions.
If you are an Internet Troll/Weirdo/Anti Dog Breeder/Anti New Breed Development Type Person and feel the need to send us your comments, you are still required to provide your full (first/last) name, city/state and phone number. Without it, your emails will be considered "unsolicited" and "harassing" and appropriate action will be taken with your internet service provider and/or email provider.
Some people seem confused or aggitated by our use of the term "Mini Rottweiler" in relation to our black and tan Carlin Pinschers since there is no Rottweiler blood in them. This term is used as a DESCRIPTION because this is what the black and tan dogs LOOK LIKE, they can LOOK LIKE little miniature Rottweilers. The actual name of the developing breed is the Carlin Pinscher.  Mini Rotties is a nickname.
This website is written/formatted to the average person. It is not intended to provide information to the overly educated dog breeder. If you want to talk "breeding" feel free, but know that this site was not written to speak to your level of experience so does not include all the ins and outs of breeding and breed development and we may use different terminology to describe things so that the layperson can better comprehend it.
PLEASE BE CONSIDERATE OF OUR TIME. IF YOU DO NOT HAVE THE FUNDS OR CANNOT AFFORD TO BUY PLEASE CONTACT US ONLY AFTER YOU ARE ABLE TO ACTUALLY PURSUE GETTING A PUPPY.  ALSO, PLEASE MAKE SURE YOUR SPOUSE APPROVES OF GETTING A DOG AND THIS KIND OF DOG BEFORE COMMUNICATING WITH US.
Approved persons/homes that wish to secure a place on our Reservation List can complete our contract and submit a $150 non-refundable fee (applicable towards the purchase price of a puppy.
Serious Inquirers Only Please!!
Showings are by advanced appointments only and are granted only if there is a particular puppy that is available to you.  We do not offer general interest or casual showings.
Our telephone number is: not made public. Email is the preferred form of communication unless you have become an approved home.
Our email address is: [email protected] but again, only use this if you are providing the minimum information required and only if you have read through this ENTIRE website. We are very busy people with a full schedule. We get an overwhelming amount of iquiries so all of our poliies and requests are set up to help us make the best use of our limited time.
We are located in the Minneapolis, Minnesota area.
Thanks for stopping by and learning about our dogs.
Peace, Love and Light to You!!